ONLY DJ-V27T is still in production. (S-versions are available in E-version only, V27 is available only in T-version.)


Click this image to download
a brochure in PDF(419kb)
The "new generation" DJ-V&S17/27/47 is loaded with features, including:
New, two-touch repeater access
High grade waterproof materials compatible to IPX7* (submersible 1m/3ft. for 30 min.)
Rugged polycarbonate body resists dirt, dust and moisture
Highly visible backlit alphanumeric display
Direct frequency input through illuminated keypad (V-models only)
DTMF Autodialer with Memory includes nine autodial memories plus redial function (V-models only)
200 Memories and one call channel
VFO, Memory and Scan modes
Ultra-flexible antenna with SMA connector avoids breakage
39 CTCSS tone squelch (encode+decode) settings
Tone burst function (1,000, 1450, 1750 and 2100Hz)
Battery-drain function avoids memory-effect
Ergonomic design, fits in the palm of your hand
Wire cloning capability
Ni-MH standard and varieties of optional batteries including Li-ION packs
2-level attenuator
Waterproof single mic/speaker jack
* The IEC 60529/IPX7 is an European system of test specification standards for classifying the degrees of protection provided by the enclosures of electrical equipment. An IPX7 designation means that the unit withstands immersion in one meter (approx 3ft) of still water for up to 30 minutes.The factory guarantees this grade for 1 year provided all the jack covers are properly and securely closed. However, Please understand that unit is not an IPX8 (water-resistant) grade, NOT even IPX7 COMPLIANT (but compatible); water-pressure such as washing the unit with running water may cause damage to the unit and voids warranty. Never immerse the unit uselessly under the water. V/UHF signal does not propagate in water.If the unit is dropped in water, please pick it up immediately and wipe with a clean dry cloth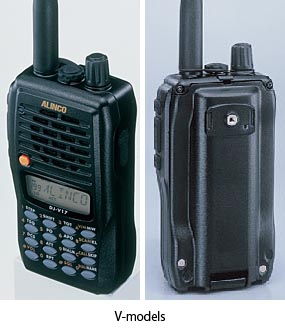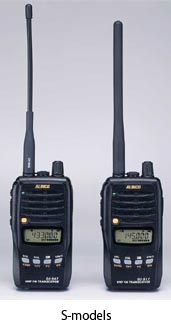 Specifications
Genaral
Frequency range:
DJ-V17 / S17
T: TX144 - 147.995MHz RX130 - 173.995MHz
E: TX/RX 144 - 145.995MHz
DJ-V27T
T: TX222 - 224.995MHz RX216 - 249.995MHz
DJ-V47 / S47
T: TX430 - 449.995MHz RX410 - 470MHz approx.
E: TX/RX 430 - 439.995MHz
Modulation:
F3E (FM)
Frequency step:
5,10, 12.5, 15, 20, 25, 30kHz step
Memory channel:
200 channels + 1 call channel + 1 Repeater-Access parameter memory
Antenna impedance:
50ohm unbalanced
Frequency stability:
DJ-V17 / S17: +/- 5ppm
DJ-V27/V47 / S47: +/- 2.5ppm
Supply voltage:
DC 7.0 - 16.0V (EXT DC-IN)
Current consumption:
(Typical value)
TX at High power V/S17 1.4A, V27T 1.6A, V/S47 1.7A
RX at 500mW AF out: 250mA
Stand-by: V/S17 70mA, V27T 80mA, V/S47 80mA
Battery-save ON: average 26mA
Temperature range:
Unit -10digC to 60digC (+14digF to +140digF)
Battery packs: -10digC to +45digC (+14digF to +113digF)
Ground:
Negative
Dimensions:
58(W)x110(H)x36.4(D)mm (2.28"(W)x4.33"(H)x1.43"(D)) with EBP-63 w/o projection
Weight:
Approx.280g (9.9oz) with EBP-65N & antenna
Transmitter
Power Output:
(Approx.value)
V/S17: 5W (with EBP-65N) 5W (with DC 13.8V) 0.8W (LOW output)
V27T: 5W (with EBP-65N) 5W (with DC 13.8V) 0.8W (LOW output)
V/S47: 4.5W (with EBP-65N) 5W (with DC 13.8V) 0.8W (LOW output)
Modulation:
Variable reactance
Spurious emission:
-60dB or less
Max. deviation:
FM : +/- 5KHz
Mic. impedance:
2Kohm
Receiver
System:
Double-conversion super heterodyne
Sensitivity:
-14.0dBu (0.2uV) or less
Intermediate frequency:
DJ-V/S17: 1st IF 21.7MHz 2nd IF 450kHz
DJ-V/S47 & V27T: 1st IF 38.85MHz 2nd IF 450kHz
Selectivity:
-6dB: 12kHz or more -60dB: 35kHz or less
AF output:
Max 500mW / 400mW (8ohm, 10% distortion) /

Specifications subject to change without notice or obligation. Specifications apply to Amateur Radio bands only. Permits required for MARS use.
Product intended for use by properly licensed operators.
Standerd Accessories
Ni-MH battery pack EBP-65 (7.2V 700mA)
EDC-146(T) or EDC-147(other versions) wall-charger
Flexible whip antenna (EA0141 or EA0142 depending on the versions)
Belt clip
Hand strap
Instruction manual
Accessories may differ depending on the versions. Please contact your dealer for standard accessories and warranty-policy.
DJ-V/S 17/27/47 Free Utility Software Download
Please be advised that this is a freeware (copyright reserved by Alinco, Inc). Although we have tested this software on our Windows 95/98/NT/2000/XP environments and experienced no serious accident during the operation, we are not responsible of any eventual damage caused to your radio and/or PC system by using this utility. Sorry, please do not contact us for how to use the software, as this is a very simple editor software. The up-dates will be posted here as soon as available. Please uninstall the older version before you install the latest one in case of update. In case you find a bug, please report to export@alinco.co.jp specifying your OS
This software enables you to program frequencies, set parameters and save it in your PC for any version of DJ-V/S17T/E or V/S47T/E/TFH/R.
Please be advised that DJ-S17/47(without any suffix/Japanese models) require different software. It will be posted on Alinco's Japanese site soon
DJ-V17/S17 Clone Utility (2.3MB/Ver 0.20 beta Dec 2006)

DJ-V47/S47 Clone Utility (2.3MB/Ver.0.10 beta Apr 2007)

DJ-V27 Clone Utility (2.3MB/Ver 0.10 beta June 2007)


Interface:
Please remember that you must have Alinco's optional EDS-10 plug-conversion cable and either ERW-4C or ERW-7 computer interface cable in order to connect the unit to your PC. A simple connection cable may not work properly. The interface is simple, just plug in the ERW-4C or ERW-7's jack into the MIC port of the EDS-10 that is plugged in the accessory port of the radio before turning on the unit. Please remind that in order to use ERW-7 a driver software installation is required.
Instructions:
To install this software, unzip the folder and click the icon. The installer will guide you the installation. To uninstall please proceed with the common uninstallation procedure of the Windows.
To start editing, press PTT key 3 times with MONI key pressed. A "CLONE" appears on the display and the unit is ready for PC programming.
Boot up the software. Make sure the COMM-PORT allocation at the COMM-PORT setup in the TOOL menu. To program, write values or use check boxes to customize the parameters. Use tool-bar menus to save or open files.
The "Write (Read) settings" command on the Setting tab 1 and 2 programs both Setting tab 1 and 2 by a single click of the either side. "The Write (Read) memory" command programs only the memories. Please use "Write (Read) All" command in the TOOL menu to program both settings and memories at the same time.
The Channel Mode is to make a unit like a commercial-radio to operate in the pre-programmed memory channels only by prohibiting the access to VFO mode, pre-determined functions and the Reset. Please always program at least 1 memory to utilize this mode. Programming this mode without the memory, "No MR" appears on the display of the unit after the data-transfer.
To return to the normal mode or eliminate No MR display, please overwrite a data without marking the Channel Mode check box. The only way to exit from the Channel mode is to use this utility or cable-cloning normally programmed data from another unit; a key-command "reset" is intentionally made unavailable in the Channel mode.
After the data is transferred successfully a "PASS" appears on the display of the unit. Turn the unit off then remove the cable. Turn on the unit.
The unit will turn on at the memory mode always. Please press V/M key to operate in VFO mode
The most common cause of a trouble is an eventual use of USB-serial conversion cable with ERW-4C. In case the software does not work properly using USB port, please replace the conversion cable or use a serial port. The ERW-7 is also available for direct connection to USB port without using a conversion cable. Please be advised that the frequency-editing columns accept only ASCII-coded numbers and period. Other characters will be disregarded or can't be entered. Please always use a period to separate the MHz unit, not with a comma that is not accepted by the software.