DJ-500T/E 144MHz/430MHz FM Dualband 5W Handheld Transceiver
Amazing high performance, compact size, and full featured!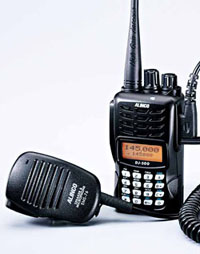 Click this image to download
a brochure in PDF(419kb)
Engineered for success, this dual-bander is packed with features:
Large, dot-matrix, 3 color-selectable (orange,white,cherry-blossom) display and keypad
Semi-Duplex dualband, V/V-U/U and FM broadcast receiver
200 memory channels, any mix of VHF/UHF
Internal VOX
Alphanumeric channel labels
Direct frequency input from keypad
Landmobile-grade signaling features
Variety of scanning modes
IP54 dust/splash proof, MILSPEC (STD810) vibration/shock compliant
Wide and narrow FM TX/RX
12Vdc input using an optional cigar-socket adapter.
High power Li-Ion battery pack, stand charger and beltclip included
PC cloning capability (optional ERW-4/7 required, free utility software)
The IP54 is an European system of test specification standards for classifying the degrees of protection provided by the enclosures of electrical equipment. IP54 means the case is protected against dust limited ingress (no harmful deposit), and protection against water sprayed from all directions (limited ingress permitted).
Specifications
Genaral
Frequency range:
[T: TX] 144 - 148MHz, 420 - 450MHz
[T: RX] 136 - 174MHz, 400 - 480MHz
[E: TX/RX] 144 - 146MHz, 430 - 440MHz
Modulation:
F3E (FM)
Frequency step:
2.5, 5, 6.25, 8.33, 10, 12.5, 20, 25, 30 and 50KHz
Memory channel:
200 memory channels in total
Antenna impedance:
50ohm unbalanced
Frequency stability:
+/- 2.5ppm
Supply voltage:
DC 7.4V (Battery)
Current consumption:
1400mA TX / 300mA receive at Max audio output
70mA squelched
Battery-save ON: average 27mA
Temperature range:
Unit -20 ~ +55digC (-4 ~ 131digF)
Battery packs: -10digC to +45digC (+14 to +113digF)
Dimensions:
59.0W~98.0H~35.0D mm or 2.32W~3.86H~1.38D inches w/o projection
Weight:
approx.227g or 8.01oz inclusive of battery pack and antenna
Transmitter
Power Output:
(Approx.value)
Approx.5 / 2.5 / 1W
Modulation:
Variable reactance FM
Spurious emission:
-60dB or less
Max. deviation:
FM : +/- 5KHz NFM: +/- 2.5KHz
Receiver
System:
Direct-conversion
Sensitivity:
Wide -12dBu / Narrow -9dBu
Intermediate frequency:
1st IF 38.85MHz, 2nd IF 450 KHz
Selectivity:
-6dB : Wide 12kHz /Narrow 10kHz or more
-60dB :Wide 30kHz / Narrow 24kHz or less
AF output:
1W (10% distortion)

Specifications subject to change without notice or obligation. Specifications apply to Amateur Radio bands only. Permits required for MARS use. Product intended for use by properly licensed operators.
Standerd Accessories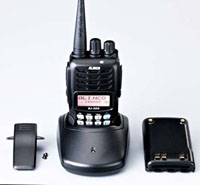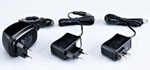 EA-228 Whip antenna
EBP-87 Li-ion 7.4V 1500mAh battery pack
EDC-190E (220V Linear) , EDC-191E (220V / E-models) or EDC-191T (120V / T-models) AC adapter
EBC-34 Belt clip and a strap
Accessories may differ depending on the versions. Please contact your dealer for standard accessories and warranty-policy.
Optional Accessories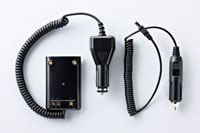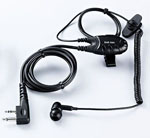 Mobile DC charging cable (EDC-198)
Mobile DC cable (EDH-40)
Earphone Microphone (EME-56A)
Speaker Microphone (EMS-76)
Li-ion Battery Pack DC 7.4V 1700mAh (EBP-88) Belt clip not included.
* Voids IP54 ingress protection when EME-56A and/or EDH-40 are in use.
DJ-500 Free Utility Software Download
Please be advised that this is a freeware. Although we have tested this software on our Windows Vista/Seven 32/64bit environments and experienced no serious accident during the operation, we are not responsible of any eventual damage caused to your radio and/or PC system by using this utility. Sorry, please do not contact us for how to use the software, as this is a very simple editor software. The updates will be posted here as soon as available. Please uninstall the older version before you install the latest one in case of update. This utility enables you to program frequencies, set parameters and save it in your PC for any version of DJ-500.
DJ-500 Clone Utility (5.2MB Installer program ver1.02)
* Click on the icon to start installation. Please select correct COM port before start using the program. Before start editing, click on the MODEL menu in the tool-bar, and select the correct version of your DJ-500. To edit memory channels, select CH page. Double-click on the cell and write the data. The Radio page is for FM broadcast station frequencies. Some features may not be available depending on the version you use (these parameters are for commercial-use and not used in amateur radio communications). Before you edit the real data, program some fake data to become familiar with the utility interface and how the radio works after programming.
Please remember that you must have Alinco's optional ERW-4C or ERW-7 computer interface cable in order to connect the unit to your PC. A simple connection cable doesn't work properly.