New Products
DJ-MD5T/TGP, E/EGP
An Exciting Compact, 2-Slot Dual-band DMR Transceiver!

Built-in GPS Receiver
Transmits and receives GPS coordinates automatically, and displays the distances between you and other users. (TGP,EGP models)

Clear Voice and Powerful Audio
Utilizes DVSI's AMBE+2R vocoder for Crystal clear DMR digital audio for use in noisy environments like construction sites and malls. Powerful 1W audio output to insure loud crisp sounds.

Large, Full-color Display
Features 1.77 inch display with a menu-driven interface, icons and large, easy-to-use keys for comfortable operations and message reading.

Real Two-slot DMR
The DMR Tier 2 two-slot TDMA technology doubles your communica- tions capacity!

Mixed Mode Operation
The DMR Tier 2 two-slot TDMA technology doubles your communica- tions capacity!

Digital Voice Recorder
Up to 14 hours of recording communications and sounds/voice using an internal or optional microphone.




Other Versatile features
* Common to Digital and Analog modes
Selectable output power 5W/2.5W/1W/0.2W
4000 channels, 250 zones, 250 scan lists
Displays DMR ID, Call sign, Name and Geographical info.
VOX built-in
Allows CSV export/import of setting parameters
Easy import of DMR contact database (entire world wide)
Single or dual channel selectable
FM Broadcasting receiver with 100 memory channels and VFO
Manually programmable Side and Hot keys.
Automatic date and time calibration by GPS (TGP,EGP models)
* Digital mode
10,000 Talk Groups, 250 Radio ID, 160,000 contact lists
Displays the Caller ID and name
32 preset encryption codes
Selective calls including Individual, Group or All
Digital Monitor function to receive signals without matching ID or color codes.
* Analog mode
Variety of signaling; CTCSS/DCS/DTMF/2-TONE/5-TONE encode and decode
Four diff¬erent Tone-burst tones
Programmable Auto Repeater Shift (VFO)
This is not an amateur radio equipment.
Please inquire to your dealer for details of this product.
DJ-MD40
An Exciting New DMR Radio that's available to all!

This Alinco's DMR transceiver packs a lot of performance into a compact and rugged polycarbonate body. Designed to resist dust and splash, the DJ-MD40 features specs such as 1W audio output with a large speaker and 2.5ppm frequency stability.
Capable of operating 5W output in analog and digital with mixed mode,1000 channels programmable in 64ch per zone in a hotel, shopping mall, theme-park, exhibition hall for business, construction, factory, warehouse, stadium where communication comes first, the DJ-MD40 is a brilliant choice for everyone!

This is not an amateur radio equipment.
Please inquire to your dealer for details of this product.
DR-735T/E
Simply Beautiful and Beautifully Simple.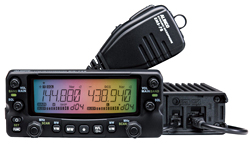 This "beautifully simple" radio has fully independent keys and dials to deliver true dual-band operation. The removable front panel can be remotely mounted or inverted for optimal speaker placement. Building on Alinco's reputation for simple operating commands and straight-forward key design, the DR-735 is a radio you can start enjoying from the moment you power up!
DR-638HE
Dual-Band Mobile Transceiver with Full Duplex Capability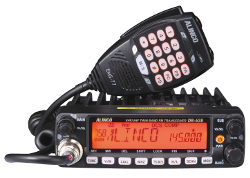 The DR-638 dual-band transceiver from Alinco makes a sharp attractive addition to any operating environment. Starting with full duplex capability and a remotely mountable control head, the DR-638 is a solid performer for base or mobile operation.
DR-138/438
Best Value, Proven Reliability and Feature packed!

The DR-138/438 is a high technology radio that delivers power and performance in a small package. User-friendly configuration and programmable features make the DR-138/438 the radio of choice for both demanding and beginner operators.
DR-B185HT/HE
Easy to operate, clean design, packed with features
...and HIGH POWERED!
The DR-B185 in its compact package is loaded with high technology features: high stability PLL synthesizer, newly designed power circuit that puts out 85W max, 7-digit alphanumeric display, a wide variety of scanning features, just to name a few. Yet the operation is intuitive and simple with user-friendly configuration. Using a high-tech, high-powered radio is this simple!
DJ-500T/E Dual Band Handheld Transceiver
Amazing high performance,
compact size, and full featured!

Full of advanced features, the DJ-500 offers landmobile-grade operation and powerful 5W output. CTCSS, DTMF, DCS and 5-tones are standard, along with a variety of tone bursts for repeater access or selective calling.
Convenience features include direct frequency input, alphanumeric channel labels and 200 memory channels that can each store operating parameters.
A Li-Ion battery pack and a stand charger are standard, adding power and convenience. The DJ-500 looks simple, but remember, looks can be deceiving! The DJ-500 places one of the world's most advanced transceivers at your command, at ALINCO's affordable price!
Notice to California resident users / Proposition 65 of the State of California
This announcement has been made in accord with requirements of the State of California. However, it is recommended for all users of our products to read it for health and safety of yourself and the environment around you.